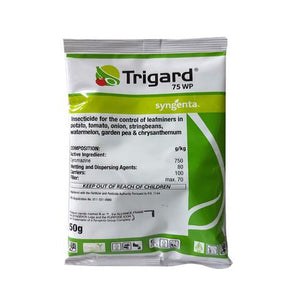 TRIGARD 75WP
₱84000

₱840.00
Tax included.
Shipping
calculated at checkout.
---
---
Trigard 75 WP is an insect growth regulator for the control of Dipterous and some Coleopterous larvae. It penetrates the leaves when applied as foliar spray and is rapidly absorbed by the roots (systematic action) when applied to the soil.
*A measuring scoop with 2-gram and 5-gram graduation is provided.
APPLICATION TIME: Commence application at the first sign of infestation and repeat as necessary for maximum of 2-3 applications per cropping season.

RE-ENTRY PERIOD: Do not enter unless spay deposit have dried,

PRE-HARVEST PERIOD: 14 days for all corps.

WARRANTY AND PROHIBITION: No warranty of any kind, expressed or implied, is made concerning the use of this product. User assumes all risks and liabilities resulting the handling, use or application.

ENVIRONMENT AND WILDLIFE: Do not contaminate water used for irrigation and domestic purposes water areas such as flowing or stagnant water by disposal of product wastes.

STORAGE AND DISPOSAL: Store in a cool, dry place. Keep away from heat and open flame. Do not re-use container. Destroy empty container and bury away from sources of water.
PRECAUTIONS: Wear overall or long-sleeves shirt and gloves during mixing and application. Wash working cloth separately after use. Shower, bathe and wash hair after work do not eat, drink or smoke while handling the products.

SIGNS AND SYMPTOMS OF POISONING: No case of human poisoning is on record.

FIRST AID: If poisoning is suspected, stop work immediately call a physician. Move affected from the danger zone go to well-ventilated room or to fresh air, and protect form undercooling. In case of contact with skin remove contaminated clothing and thoroughly wash the affected parts of the body wit soap and water. In case of contact with eyes, rinse eyes with clean water for several minutes and immediately call a physician. In case of ingestion, repeatedly administer medicinal charcoal in a large quantity of water. Never give anything by mouth an unconscious person. Do not induce vomiting.

NOTE TO THE PHYSICIAN: Not specific antidote is know. A symptomatic therapy.