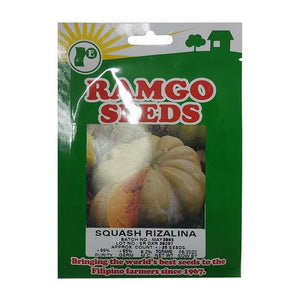 SQUASH RIZALINA 5G
₱50400

₱504.00
Tax included.
Shipping
calculated at checkout.
---
---
Purity: +99%
Germ: +85%
M.C: 8.2%
Net WT.: 5grams
Cucumbers (Cucumis sativus) are classified as naturally occurring vegetables, but some cucumber varieties are hybrids. Cucumber plants likely originated in India and were introduced into China during the second century B.C. The first cucumber varieties are described as open-pollinated or standard cucumbers. Later, selective breeding originated hybrid varieties of cucumbers.

Hybrid Cucumbers
Standard varieties of cucumbers include Straight Eight and Poinsett 76. These varieties produce true-to-type or stable characteristics generation after generation. Hybrid cucumber varieties result from the controlled crossing of two pure lines. For example, the hybrid burpless variety was bred for its burpless slicing cucumbers. Seeds aren't saved from hybrid cucumbers because the plants produce an unpredictable mix of characteristics.

Types of Cucumbers
Over the years, two distinctive types of cucumbers, pickling and slicing, developed. The small pickling cucumbers range from 3 to 4 inches in length while the slicing cucumbers are several inches longer with a larger diameter. Additionally, some types of cucumbers grow on bush-type plants while others mature on vines.