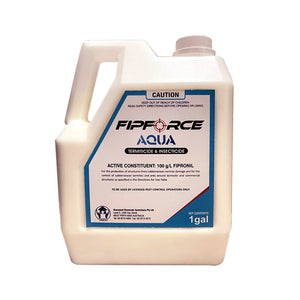 FIPFORCE AQUA - 1 Gallon
₱7,88888

₱7,888.88
Tax included.
Shipping
calculated at checkout.
---
---
FOR TERMITES
Rate of Application
Recommended dilution rate: 10 ml FIPFORCE AQUA Termiticide & Insecticide per litre of water.
Apply FIPFORCE AQUA Termiticide & Insecticide as a soil treatment to form a complete treated zone between the soil and the structure.
Apply to horizontal soil surfaces before concrete is poured by drenching soil evenly at 5 litres solution per m2.
Apply vertical treated zones (e.g. against walls extending below soil level) using 5 litres solution per linear meter for each 30 cm depth. Treat at least 1 meter below soil level or down to footing during backfilling or by rodding
Apply to existing building against all walls around the perimeter of the building and around other potential gaps on slab (e.g. around plumbing, electrical, etc.) by following directions for vertical treated zone above or by drilling along all walls (internal and external) within 15 cm. from walls. Drilled holes should be spaced such that a continuous treated zone is formed. Inject 10 litres of solution per linear meter (e.g. 3 litres per hole at 30 cm. spacing).
Foam Application
Mix solution of FIPFORCE AQUA Termiticide & Insecticide with manufacturer's recommended volume of foaming agent and apply so that the above volume of unfoamed spray per unit area is applied as given above. Correctly applied, FIPFORCE AQUA Termiticide & Insecticide will prevent termite entry for a period of three years. Regular inspections to detect new termite activity are required after this time. At a mixing rate of 5 mL FIPFORCEAQUA Termiticide & Insecticide per litre of water, semi-annual inspection is required after treatment and re-treatment should be done if necessary
FOR ANTS, COCKROACHES, TICKS, FLEAS
Rate of Application 25 - 50 mL per 5 L water Use the higher application rate in situations where pest pressure is high. Use the lower application rate for low to moderate infestations and re-treatments. Inspect premises thoroughly and locate all cockroach harbourages. Apply directly into cockroach harbourages such as cracks and crevices away from where it is likely to be removed by cleaning programs. Numerous smaller placements will provide faster control than fewer larger spots, especially for German cockroach control. Apply behind sinks, stoves, and pipes paying particular attention to all cracks and crevices which might contain cockroaches. Repeat treatments when pests begin to reappear.
Apply prepared spray to indoor and outdoor surfaces where ants are tracking. Internal harbourage sites include (but are not restricted to) areas such as walls, behind and under sinks, under furniture and indoor plants. External harbourage sites include (but are not restricted to) areas such as building exteriors, eaves, walls, fences, garages, sheds, gazebos, ornamental plants, bushes, shrubs, hedges, shady or damp areas around buildings. Reapply as necessary. For indoor use, pay particular attention to dark protected areas such as cracks and crevices.
STORAGE AND DISPOSAL
Store in the closed, original container in a cool, well-ventilated area. DO NOT store for prolonged periods in direct sunlight. Triple or preferably pressure rinse containers before disposal. Add rinsings to the spray tank. Do NOT dispose of undiluted chemicals on-site. If recycling replace cap and return clean containers to recycler or designated collection point. If not recycling, break, crush or puncture and deliver empty packaging for appropriate disposal to an approved waste management facility. If an approved waste management facility is not available, bury the empty packaging 500 mm below the surface in a disposal pit specifically marked and set up for this purpose clear of waterways, desirable vegetation and tree roots, in compliance with relevant Local, State or Territory government regulations. DO NOT burn empty containers or product.
PRECAUTIONS
Residents and pets should not be allowed in a room being treated. Any spills should be cleaned up before leaving the room (refer to the MSDS). Ensure all heating/air conditioning ducts, air vents, plumbing pipes, sewer lines, floor drains, heating pipes and electrical lines/conduits are known and identified before commencing any application of termiticide. DO NOT puncture or contaminate any of these. Avoid application around edible plants
RE-ENTRY PERIOD
DO NOT re-enter treated areas until spray has dried.
SAFETY DIRECTIONS
Will irritate the eyes and skin. Repeated exposure may cause allergic disorders. Avoid contact with eyes and skin. Wash hands after use. When opening the container, preparing spray and using the prepared spray, wear chemical resistant clothing buttoned to the neck and wrist and a washable hat, half-face piece respirator with combined dust and gas cartridge and elbow-length PVC or nitrile gloves. After each day's use, wash gloves, contaminated clothing and respirator and if rubber wash with detergent and warm water.