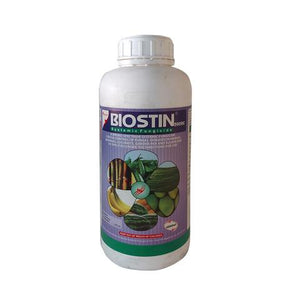 BIOSTIN SYSTEMATIC FUNGICIDE | Carbendazim | Fungicide - 1 liter
₱2,35000

₱2,350.00
Tax included.
Shipping
calculated at checkout.
---
---
A broad-spectrum system fungicide for the control of fungal diseases in mango, bananas, cucurbits, garden pea and sugarcane as specified under the directions of use.
a = used a bunch spray in Cavendish bananas b = used as seed piece dip prior to planting


PRE-HARVEST INTERVAL: 63 days before harvest.

MAXIMUM NO. OF SPRAYING FOR BANANAS: 4 times

COMPATIBILITY: BIOSTIN500SC is compatible with most fungicides, insecticides, acaricides, growth regulators and foliar fertilizers. It is not compatible with Bordeaux mixture, copper sulphate and other alkaline products.